Login
Log in if you have an account
Register
Having an account with us will allow you to check out faster in the future, store multiple addresses, view and track your orders in your account, and more.
Create an account
Guide To Choosing A Ceiling Fan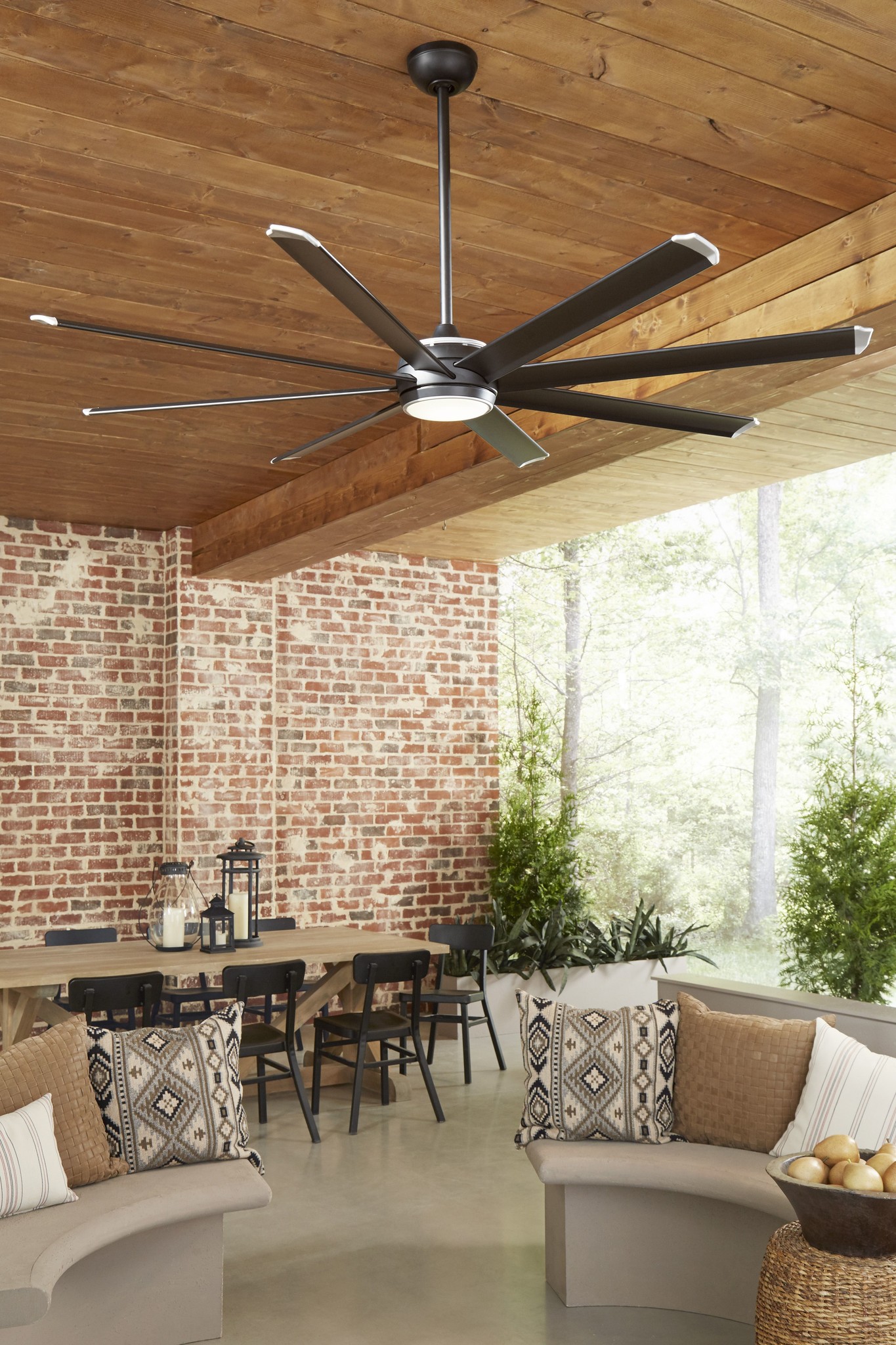 There are many benefits of having ceiling fans in your home that goes beyond cooling off a room.  Whether you have airco (also known as air conditioning or A/C) or not, air movement from using ceiling fans throughout the home will greatly reduce energy costs and other benefits are comfort, style and lighting. An added bonus is that fans are known to drive away mosquitos and other pesky bugs. Back in the day, most fans were horrendously outdated, wobbly, dusty messes.  In the past few years, designs have come a long way and now fans are sought out for their beauty as much as for the functional purpose they provide. There are 9 questions that are important to answer that will help you choose the right fan:
Is your fan going to be in a wet, damp or dry location?
Where you install your fan is the first step in selecting the right fan for your space. 
Outdoor location with likely direct contact with water (porch, pergola, palapa, lanai, gazebo): Choose wet rated fans.
Outdoor covered or high-humidity indoor location (bathroom, kitchen): Choose damp or wet rated fans.
Dry, indoor location (bedroom, living room, dining room): Choose any dry, damp or wet rated fans.  
Wet rated ceiling fans are versatile because they can be installed in dry, damp and wet locations, but the same cannot be said for dry rated fans.  Dry fans should not be installed in damp or wet locations under any circumstances whereas wet rated fans can be installed in all locations.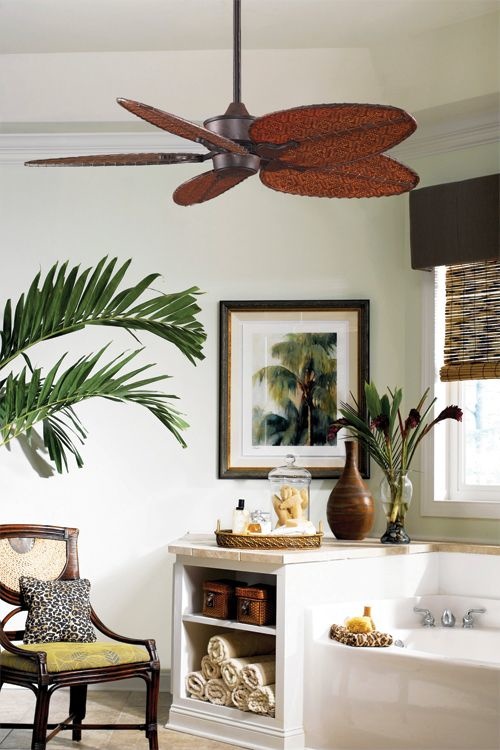 Does size matter?
The size of your room can help determine the size of your fan.  The following are general guidelines however, scale is a personal preference.
Optimal performance will come from mounting your fan in the center of the room.
If you have a long or large room, consider the use of multiple fans.
Large diameter fans can go in both small rooms and larger rooms however, here are the recommended sizing tips.
Sizing Tips:  Here are some additional dimensions to consider when choosing a new ceiling fan:
Allow at least 8 - 10 inches/ 20 - 25 cm between the fan blades and the ceiling
Allow at least 18 inches/ 46 cm between the fan blades and the walls
Allow at least 7 feet/ 2.13 meters between the fan blades and the floor
Allow at least 39 inches/ 99 cm between the fan blades and a light fixture
The ideal distance from floor to fan blades is 7 to 9 feet/ 2.13 to 2.74 meters.
Low ceilings: For rooms with ceilings with 8 feet/2.44 meters or shorter you choose flush mount (also known as hugger fans) since theses fans are low profile and hug the ceiling.  These fans do not incorporate downrods in their designs.
Average & High ceilings: To hang a fan at the appropriate height in a room that has a ceiling of nine feet or higher a fan that uses a downrod is necessary.  Downrods range from 3 to 72 inches/ 8 to 183 cm in length and is what suspends the fan from the canopy.  This is ideal because more space between the fan blades and the ceiling will result in better air circulation.
Sloped ceiling: Aside from hugger fans, most fan canopies (the part that attaches to the ceiling and covers the junction box) can accommodate some degree of slope-usually up to 30 degrees.  A longer downrod may need to be purchased to ensure enough blade clearance.  For steeper slopes, manufactures offer sloped ceiling adaptors, often called angle mounts.
How much airflow?
Airflow is measured in CFM (cubic feet per minute), energy used is measured in watts and the energy efficiency of the fan is measured in CFM per watt. Ceiling fans may save money year round when turning in the proper direction.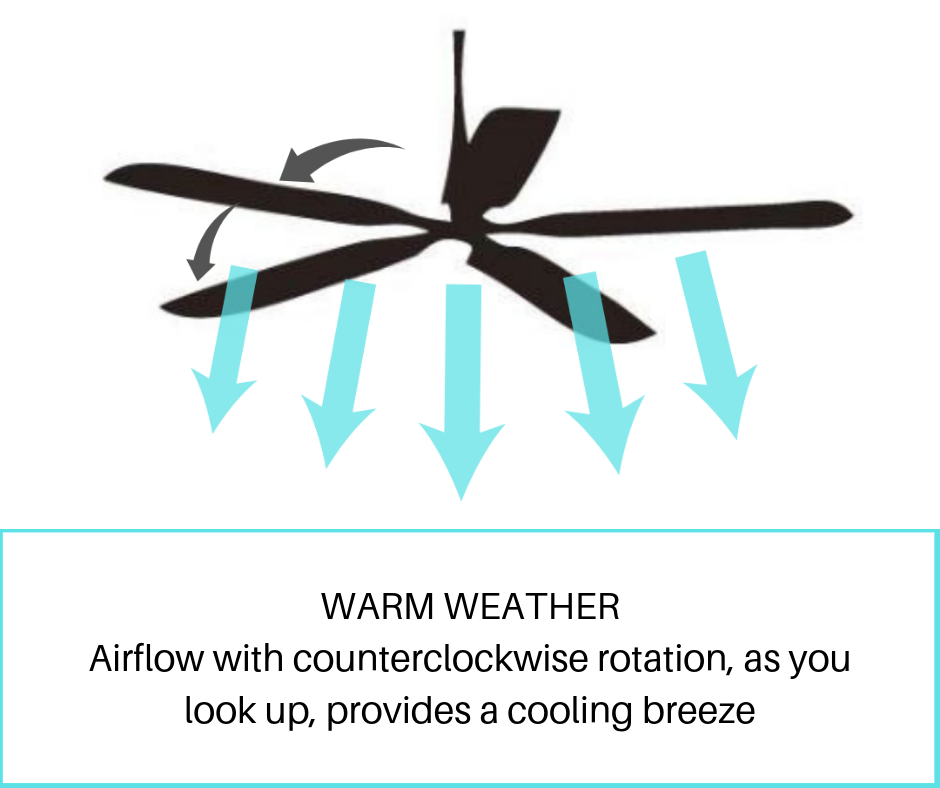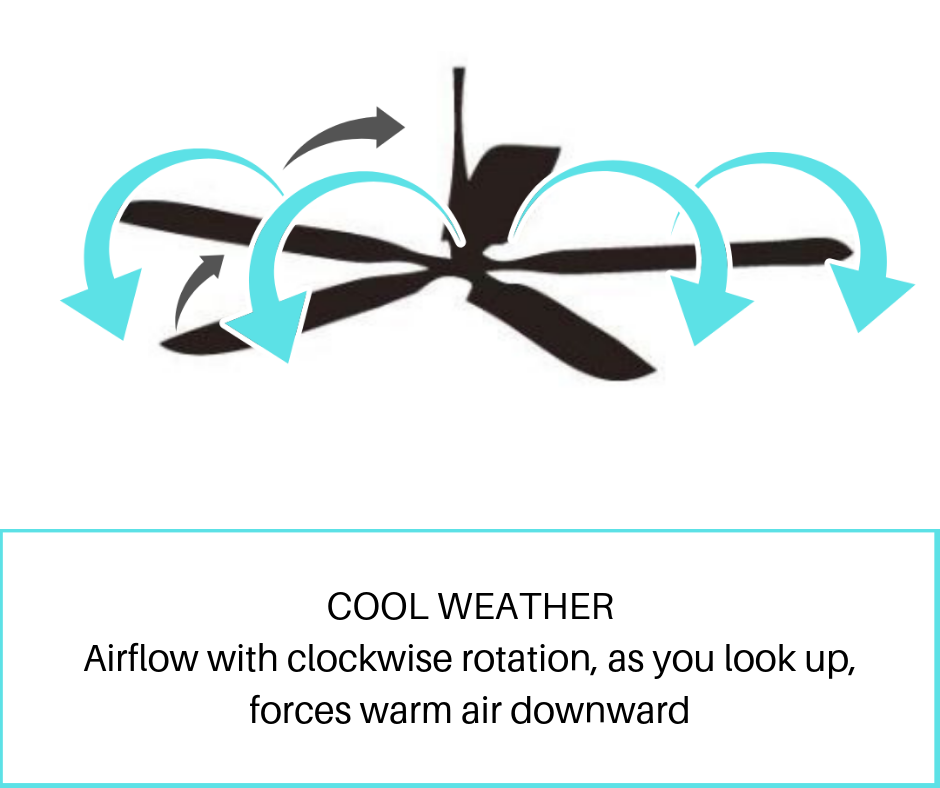 Energy information
Airflow: Cubic Feet Per Minute - The greater the number, the greater the air moved
Electric Use: Watts (excluding lights) - Energy consumed
Airflow Efficiency: Cubic Feet Per Minute Per Watt - The greater the number, the more efficient the fan is.
Which motor, AC or DC?
AC motors use supplied power directly and regulate speeds by controlling frequency.
DC motors convert supplied power and regulate speeds by controlling electrical current.  
DC fan motors are smaller and lighter than standard AC motors which allows them to generate greater torque and consume 70 percent less energy which means greater efficiency. These motors also produce less heat and are virtually silent.
Should I buy an ENERGY STAR rated fan?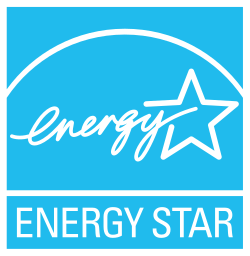 Shop Energy Star Ceiling Fans
ENERGY STAR ceiling fans must meet a rigorous set of criteria before earning the EPA's seal of approval. Here's what you can expect when you buy an energy efficient ceiling fan:
ENERGY STAR fans use 15 to 20 percent less energy than standard fans
ENERGY STAR fans with lights use 60 percent less energy than standard fans with lights
ENERGY STAR fans must come with a minimum 1-year component(s) warranty
In addition, ENERGY STAR ceiling fans must meet the following airflow requirements:
At low speed, fans must have a minimum airflow of 1,250 CFM* and an efficiency of 155 cfm/W
At medium speed, fans must have a minimum airflow of 3,000 CFM* and an efficiency of 100 cfm/W
At high speed, fans must have a minimum airflow of 5,000 CFM* and an efficiency of 75 cfm/W

How do I control the fan?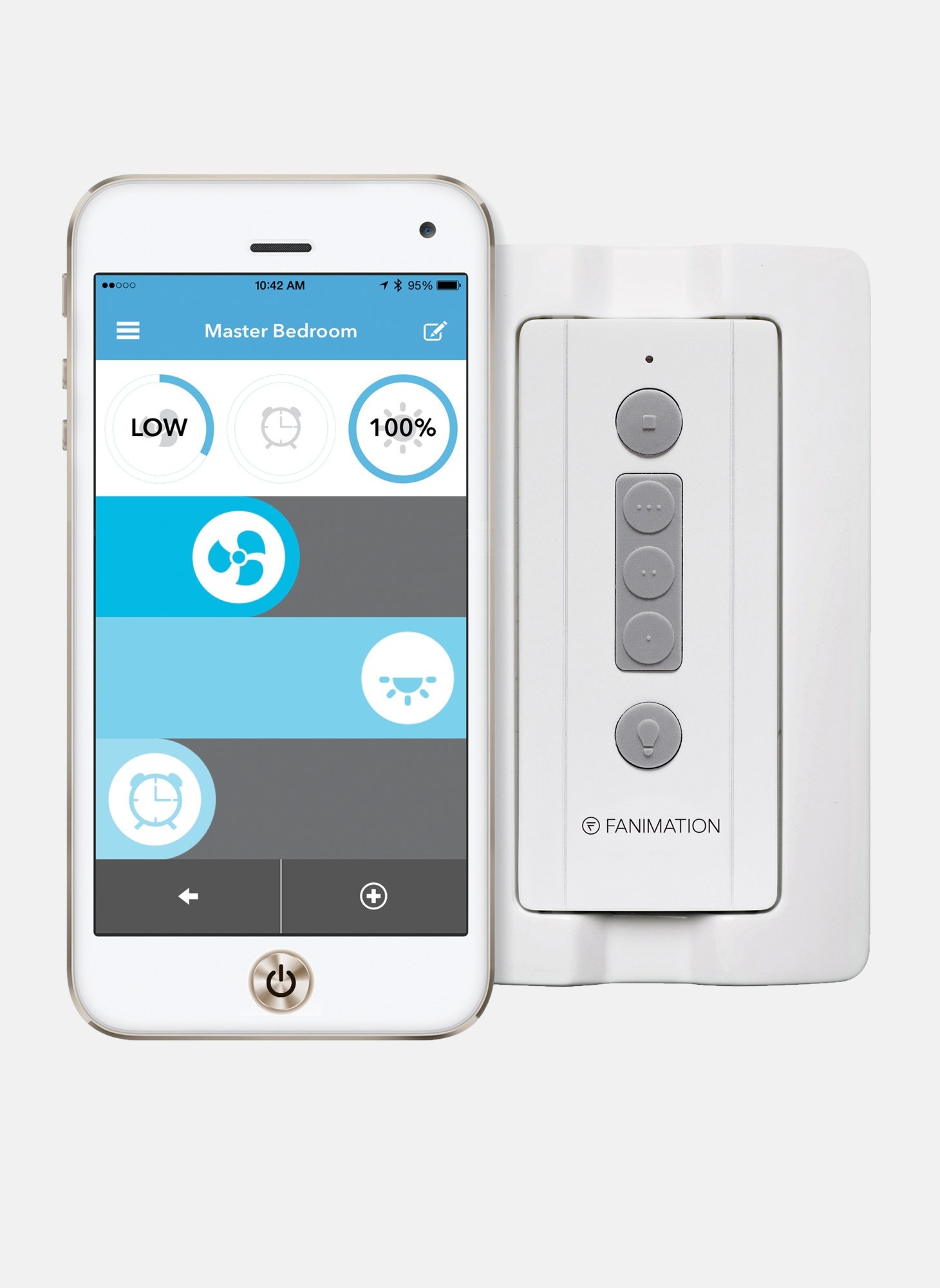 Pull chain - The pull chain offers basic fan control and is ideal for spaces with low traffic, such as a guest room. The easy-to-reach fan control is also ideal for low-profile ceiling fans.
Remote control - The handheld remote control offers the most convenience of all the fan control options. The lightweight and portable control is ideal for high ceiling fans and hard to reach places. Some remote controls can be wall mounted.
Wall Control - Wall mount control allows you to operate the fan speed, direction and lighting with the press of a button. The stationary remote is ideal for families with kids since a remote can get misplaced or a pull chain may be out of reach.
Smart Control - Control your ceiling fans with your smart device and personal voice assistants. Power to control your ceiling fan with your voice or the swipe of the finger that integrates Bluetooth or Wifi technology into a ceiling fan receiver so you can operate your fan right from your smart device.
Should I buy a fan with a light?

Choosing a ceiling fan with lighting is a matter of personal preference. If you plan to install the fan in a space with good natural lighting or sufficient light fixtures then you can choose a ceiling fan without a light.  However, if the space could use another light source then choose a ceiling fan with a light kit. Today's fans offer a range of lighting options including incandescent, halogen or LEDs.
Incandescent
Halogen - Halogen light sources use 15 percent less energy than incandescent light sources
LED - LED light sources consume very little energy
What style fits my décor?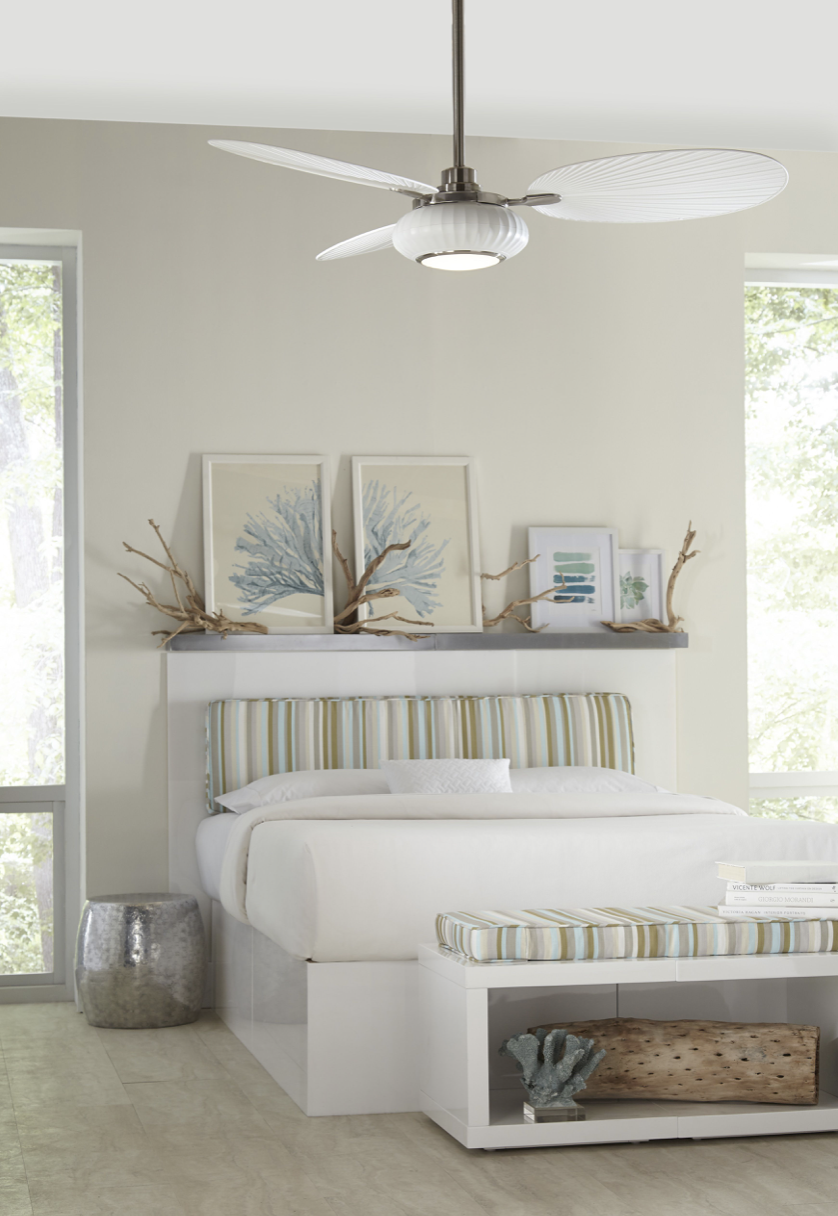 As long as your ceiling fan keep in line with your décor, the style and color are up to you.
Who can install my new ceiling fan?
Whether you are replacing an old fan or installing a new one and you don't want to do the work yourself, we recommend Chris +599 770.1400.  Simple installations start at $150.

Bonaire Coastal Living has a great ceiling fan selection for every look and lifestyle. Look around and you are sure to find a design that will make you a fan for life.  Shop our all our ceiling fans or visit us at Kaya Hulanda 58A Monday & Friday 10am - 6pm, Tuesday – Thursday by appointment, Saturday 10am – 2pm 
Need more assistance? We are here to help! Call +599 700-6049 or email [email protected]
Like Us on Facebook, Follow Us on Instagram & Pinterest